Best Strippers at Strip Club Vienna Maxim then and now
Watching beautiful women dance on a stage or on a dance pole is something that any man can enjoy. A Strip Club Vienna has always been and always will be place where we love to go and enjoy the show that the girls are putting on.
In Vienna, there used to be more strip clubs in number, but there are still places where you can be entertained by erotic shows put on by the ladies. One of these places is Strip Club Maxim, where there have always been sexy girls who know how to put on a striptease show; and it's no different now!
We will be looking back at some of the best strippers who have worked at Maxim Wien, as well as some great dancers who are working in the club right now! Keep on reading the post and find out more about the best strippers who worked and are still working in Strip Club Vienna Maxim!
Best strippers who used to work in Strip Club Vienna Maxim
The following list will contain girls who were very talented when it came to showing off on the dance floor. Unfortunately, none of these ladies are working in Maxim any longer and we are mentioning them just to reminisce about their time in the club. Without further ado, here are the best strippers who used to work in Strip Club Vienna Maxim!
Julia
The first girl I would like to mention in this list is a fine young lady by the name of Julia. Julia worked in the Maxim club in 2013 and she was among the best dancing girls who worked at that time. In fact, she was crowned Miss Maxim, which means she has won the erotic dance competition and was considered to be the best stripper/dancer at the time of the contest.
Julia was great to watch while she was dancing on the stage. She knew how to move her firm, but incredibly hot body in a sensual and very erotic manner. With her positive personality, amazing dancing skills and sexy body, there's no doubt that Julia was among the best stripper ladies who has worked in Strip Club Vienna Maxim.
Lolita
The next entry on our list of the best strippers who worked in Maxim previously is another young lady: Lolita. Lolita worked in Maxim in 2015 when she was 19 years old. This Maxim lady has also been crowned Miss Maxim in 2015 because of her great dancing and seduction skills.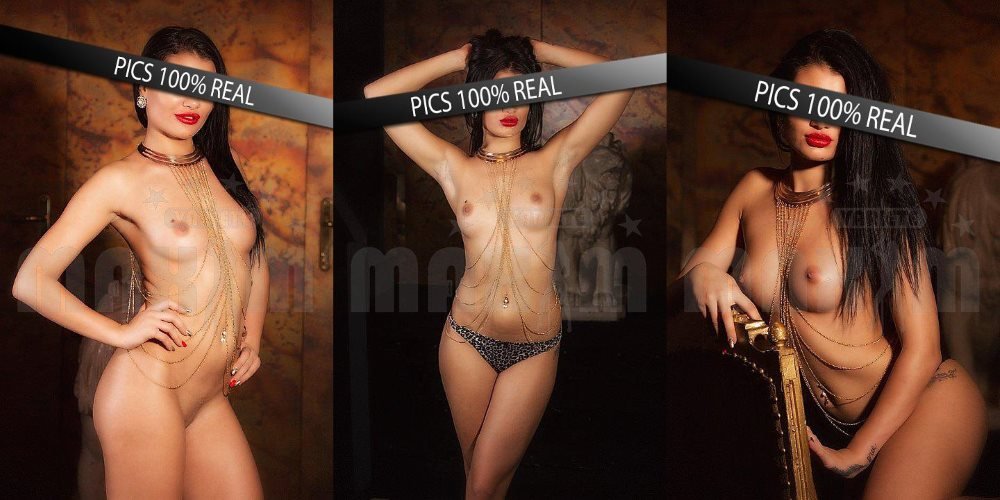 The reason why Lolita was considered to be a great stripper wasn't only because of her dancing skills. In addition to being an amazing dancer, her great looks, long brown hair and pretty face all added to the viewing experience. She moved her slim and fit body on the pole in a manner that couldn't be ignored by anyone in the club. She was a great dancer and she loved to be the center of attention while on the stage.
Amanda
Amanda has worked in around 2016 and she was actually one of the best friends of the previous girl, Lolita. Amanda was from Bulgaria and she was a very charismatic lady in the Maxim club. Because of her great performing skills on the stage, she has earned herself the title of Miss Maxim in 2016.
Amanda was a great dancer and a beautiful girl to look at. Her stage presence was undoubtedly one of the reasons why she was chosen to be Miss Maxim and we can't blame the judges for that. Amanda was the type of girl who really felt like she loved to be on stage, showing off her erotic dance moves.
Best strippers working in Strip Club Vienna Maxim right now
Now that we have inspected the girls who were once the best strippers in the club, it is time to see which girls are considered to be the best strippers in Maxim now! In contrary to the previous entries, all of these ladies are still working and can be visited in Strip Club Vienna Maxim. Let's not waste any more time and see which girls are worthy of being the best strippers in Maxim at this moment in time!
Daisy
If you follow our blog or you have some knowledge of the Vienna sex scene, you have most probably already heard something about this lady. Stripper Daisy is one of the most sought after girls in Maxim and one of the reasons behind this is her amazing dancing skills. Daisy is a fantastic dancer, and she has earned the title of Miss Maxim in 2018.
This Bulgarian lady enchants men in the club with her erotic and sexual moves, amazing body and gorgeous face. If somebody can hold the attention of the whole club, then it's definitely Daisy. Because of this, Daisy is among the best strippers who are currently working in Strip Club Vienna Maxim!
We have posted about Daisy on our blog previously. If you wish to read the article about her, click on the following link: Favorite Maxim Girl Daisy is Back
Carla
The next exceptional stripper who is still working in Maxim is the beautiful Stripper Carla. Carla is not a newcomer to Maxim and she has spent a few years dancing in the club. In fact, she has earned herself the title of Miss Maxim two times in the period that she's been working in Maxim. Carla was declared the best stripper and dancer of the club in 2014, as well as 2017.
Carla is a sexy brunette with a body to die for. In addition to her sexy figure, she knows exactly how to move every inch of her body to ensure that the viewers are having a good time. And the best part is that when Carla is dancing on the stage, you can see that's where she really feels natural. There's no denying that Carla is among the best strippers in Maxim right now, and winning the Miss Maxim contest two times just proves this.
Valentina
The last lady that we are adding to this list of the best strippers who are currently working in Maxim is Stripper Valentina. Valentina is considered to be a new girl when it comes to working in Maxim. She has only joined last year in 2019, but she also won the Miss Maxim contest the same year.
Valentina is a sexy blonde MILF with a stunning body and amazing dance moves. Much like any of the ladies that we have written about, Valentina is also great at catching the attention of clients and never letting go. She achieves this by doing her erotic dance routine on the stage and showcasing her amazing body in all of its glory.
Strip Club Vienna Overview – the Summary
These are some of the best strippers who have worked in Maxim, as well as those who can still be found in the club. All of these fantastic ladies knew how to impress clients in the club with their dance moves and there's no denying that they are all worthy of being called Miss Maxim. The girls might be different from one another, but there's one thing they have in common; they are all exceptional strippers and dancers!
If you liked what you read here and you want to read more, be sure to take a look at any of the following posts that we have uploaded to the SexClubWien blog now!
Source: Strip Club Vienna Top List: List of the best Strippers at Stripclub Maxim Wien in 2020
About Maxim Wien
Sex Club and Night Club Maxim Wien
Kärntner Str. 61, 1010 Vienna, Austria
+43 699 17172031