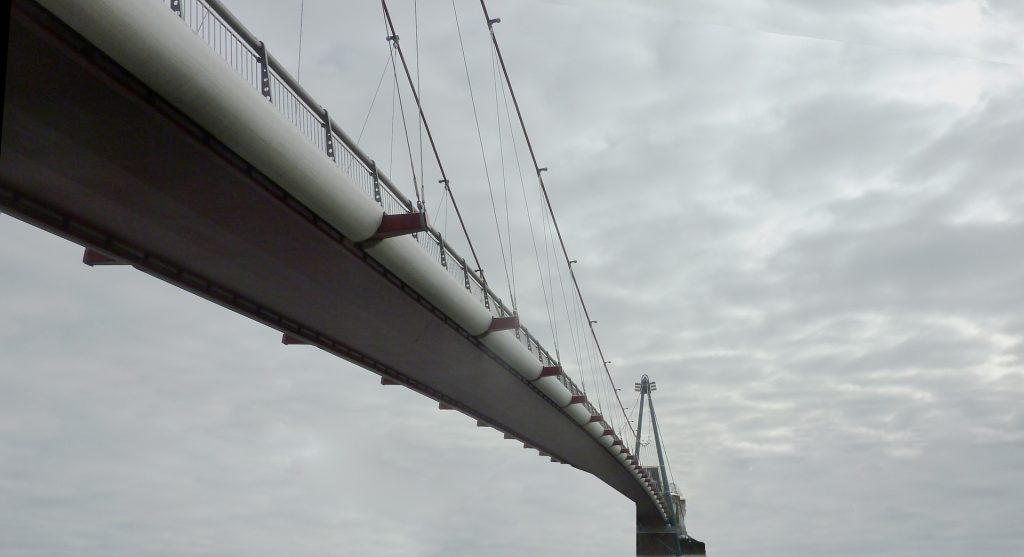 Love Act in Broad Daylight on Street: Love Trio Arrested and Imprisoned
In a bizarre incident, a trio was caught engaging in sexual activity in the middle of a pedestrian group on a bridge. Two Thai men and a Thai woman were arrested in Phitsanulok, a province in the lower north of Thailand, close to the Laos border. The police apprehended the trio after a local media company exposed them on Facebook.
According to reports, the police found pillows and a blanket at the scene near a technical college in the city, which shares its name with the province.
Esor News wrote, "A young couple wanted to create a new atmosphere and decided to have sex during the day on a pedestrian bridge in Phitsanulok. The pedestrian bridge is located in front of a famous technical college in the province," before it was revealed that it was, in fact, a threesome.
The trio has reportedly been charged with violating Section 397 of the Penal Code: "Whoever, by his act, causes annoyance to others, humiliates or angers others, shall be punished with imprisonment not exceeding one month or fined not exceeding five thousand baht or both."
Mixed reactions from the public
The incident has been met with mixed reactions from the public. Some have criticized the trio for their behavior, which they believe was inappropriate and offensive. Others have defended their actions, arguing that they have the right to engage in consensual sexual activity in private.
However, regardless of people's opinions, the fact remains that their actions were illegal and potentially harmful to the public. Engaging in sexual activity in public places is not only against the law but can also put people at risk of exposure to sexually transmitted infections and unwanted pregnancy.
Moreover, the act of filming and posting such content on social media can also have severe repercussions for the individuals involved. It can lead to public shaming, harassment, and even legal action.
Therefore, it is crucial to remember the consequences of our actions, especially in public spaces. We should all be respectful of each other's rights to privacy and avoid engaging in behaviors that may cause discomfort or harm to others.
The Thai authorities are taking a firm stance against such behavior, and we hope that this incident serves as a warning to others who may consider engaging in similar activities. The police have done an excellent job in enforcing the law and bringing those responsible to justice.
In conclusion, while sexual freedom is a fundamental right, it is essential to respect the law and the rights of others. Engaging in sexual activity in public spaces can have severe repercussions, and it is crucial to avoid such behavior. Let us all work together to create a safe and respectful society for all.
Previously we wrote
Police in France have been struggling to put a stop to prostitution rings that continue to operate despite efforts to crack down on the illegal activity. The majority of prostitution rings are controlled by South American pimp organizations, which lure women from countries such as Brazil, Paraguay, Colombia, and Peru to work in illegal brothels. Although prostitution is banned in France, the law works to the advantage of these groups who rent properties and can easily evade authorities. In recent police raids, members of two prostitution rings were arrested, leading to the closure of two illegal brothels. However, the police are facing an uphill battle with these organizations that are rapidly spreading throughout France. Read the full article here to learn more about the situation: Police in a Struggle to Stop Prostitution Rings in France
This article provides a list of the top 5 escort-friendly hotels in Vienna, based on recommendations from the Maxim Wien website. The list includes hotels for a range of budgets and preferences, from the centrally-located budget option Motel1 Vienna to the luxurious 5-star hotels Hotel Sacher and The Ring Hotel Vienna. Each hotel offers discretion and comfort, with the added benefit of allowing guests to bring their escort girls to their rooms. This list is perfect for anyone looking to enjoy Vienna's nightlife with a companion. Read the full article here to discover the best escort-friendly hotels in Vienna: Top 5 Escort Friendly Hotels in Vienna 2023
Andrew Tate, a former kickboxer and internet celebrity, has been detained in Romania along with his brother and two other men. The Tate brothers and the two Romanian suspects are facing charges of human trafficking and organized crime. The investigation alleges that six individuals were recruited and sexually abused under the misdeeds of the Tates. Romania is a known location for pimping and webcam sites, leading to speculation that Tate had something planned beforehand. Tate has been banned from several social media platforms for his misogynistic statements, and in 2016, he was removed from the British version of "Big Brother" for hitting a woman with a belt. Read more here: Andrew Tate Charged with Human Trafficking in Romania