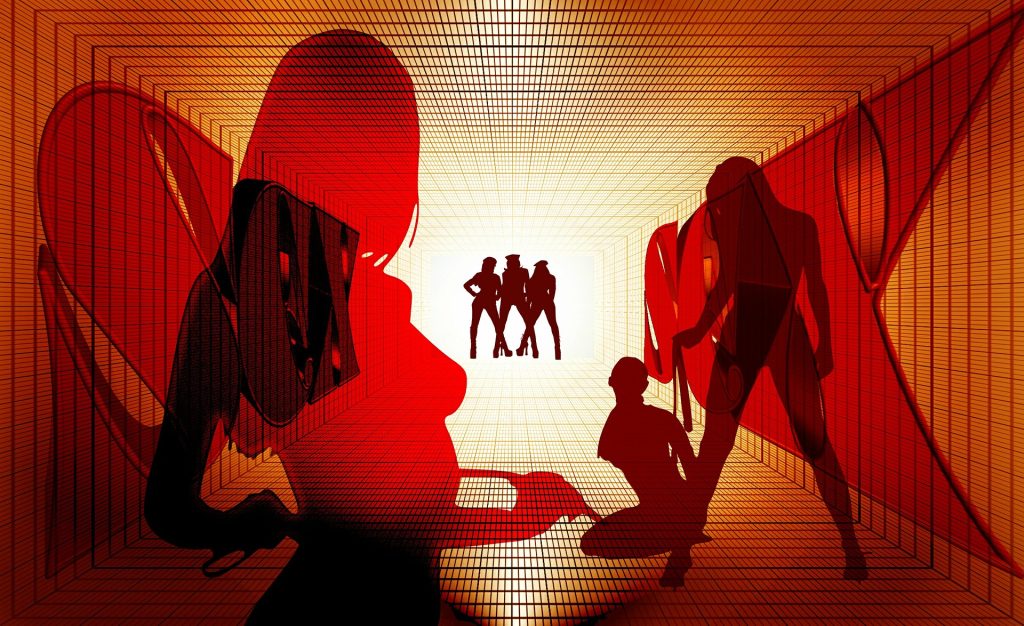 Germany's Hottest Property Hits the Market in Hamburg's Red-Light District
Hamburg has become the center of attention as a rare opportunity arises in Europe's most renowned red-light district, the infamous Herbertstraße in St. Pauli. Nestled within this 60-meter-long street lies a complete brothel, now up for sale, situated right in the heart of the so-called "women's prohibition zone."
Behind the iconic gate of Herbertstraße, boldly displaying the warning "Entry prohibited for men under 18 and women!", stands this sought-after brothel. Spanning four floors and covering an impressive 395 square meters, the property boasts not only ample space but also essential amenities such as toilets and crawl spaces on each floor.
Operating round the clock, approximately 250 seductive prostitutes captivate clients from all corners of the globe, alluring them through the ground floor windows.
The discreet advertisement of this unique opportunity can be found on "Immoscout," presented by the esteemed Lüneburg real estate agency, "Hansestadt Immobilien." The listing emphasizes the extraordinary nature of this offering.
It is an exceedingly rare occurrence for a property within the renowned Herbertstraße to be available for purchase. For the fortunate new owner, a steady monthly rental income of 2825 euros awaits.
Managing Director of "Hansestadt Immobilien," Patrick Sawert, expressed his enthusiasm, stating, "The location is unparalleled, occupying a prominent corner in the city. Moreover, the houses themselves are in impeccable condition. This is truly an unprecedented addition to our portfolio."
While speculation arises as to whether the new owner will venture into the realm of brothel ownership, the current circumstances indicate otherwise. Presently, a rental agreement is in place with the current occupants, granting them the option to extend their stay for an additional five years until 2026.
As Hamburg's red-light district witnesses the emergence of Germany's hottest property, the allure of this unique opportunity is undeniable. Interested parties are encouraged to seize this chance to own a slice of history in the midst of the vibrant Herbertstraße.
Previously we wrote:

Funpalast CEO Christoph Lielacher is venturing into politics by establishing a "red light party" in Vienna to appeal to protest voters. Lielacher aims to address pressing issues such as the struggle for survival and work-life balance that he believes politicians have failed to tackle. The party's proposed measures include a price cap on energy costs and targeted relief for small and medium-sized businesses. With the goal of participating in the upcoming national parliamentary election, the Red Light Party is gathering endorsements and hopes to bring alternative perspectives to Vienna's political landscape: Funpalast CEO Christoph Lielacher Ventures into Politics, Plans to Establish Red Light Party in Vienna
Vienna's thriving sex industry offers diverse experiences within its vibrant nightlife. To ensure a rewarding encounter, it's important to avoid common mistakes. Firstly, rely on reputable sources for accurate information about sex services, such as Sex in Vienna or Sex Clubs in Wien. Verify the legality of independent sex workers before booking their services. Exercise caution when meeting girls from unverified websites. Consider well-known and touristic sex venues like Maxim Wien and Babylon, known for their professionalism and adherence to legal requirements. Engage with sex workers in legal clubs for added safety. Respect the set prices in clubs and avoid haggling. If booking a high-class escort, match their service quality with a suitable environment: https://sexclubwien.com/sex-club-articles/dont-make-these-mistakes-when-looking-for-sex-in-vienna/
There are rumors suggesting that the Funpalast saunaclub in Vienna might shut down soon, although no official statement has been made by the management. Speculation on the Sex Vienna Forum suggests that the club will close in the fall to make way for a new office building for a pharmaceutical company. The fate of the girls employed at Funpalast is uncertain, with some potentially opting to work at other laufhauses or establishments like Goldentime or Maxim Wien, while others might consider seeking employment in Germany. It is anticipated that those who previously engaged in street prostitution may revert to that profession: The end of Funpalast-story?
Local politicians in Pohlheim, Germany, are under scrutiny as it has been revealed that the city is profiting from the "FKK World" brothel in Garbenteich through tax revenues. At a recent social committee meeting, committee members expressed concern about the situation, with some describing it as bordering on criminality. Calls for action have arisen due to the city benefiting from the brothel's taxes while prostitutes work in precarious conditions. The association "Women's Rights are Human Rights" highlighted the difficulties faced by many prostitutes, including lack of healthcare access and insurance. The meeting shed light on the need for greater support and protection for sex workers, with organizations like "Women's Rights are Human Rights" providing essential counseling services. Local authorities are urged to take action to address the challenges faced by this vulnerable population:Local politicians in Pohlheim criticized for profiting from prostitution at Garbenteich Brothel